***TRUCK Gloves sponsors our videos, and they asked us to share code TDP15. Use it at checkout to save 15%!***

---
Can you really get the best of both worlds from a 3-finger or lobster claw design? The warmth of a mitten with the dexterity of a glove? Read the TRUCK Trigger review below to find out. Check out more reviews from TDP!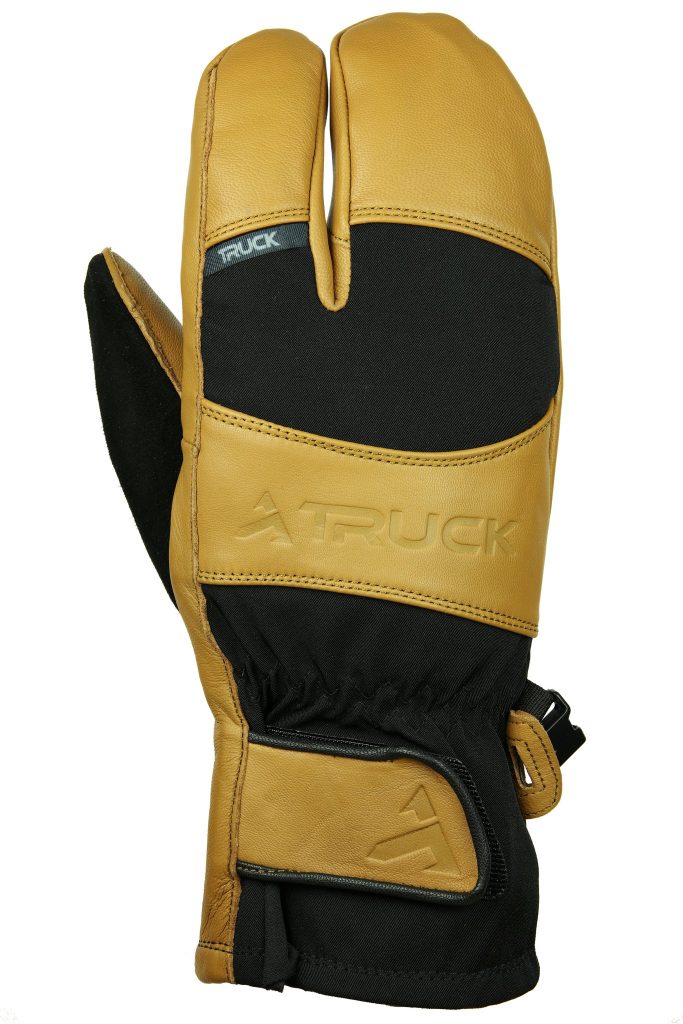 Last season, I had the pleasure of skiing with the TRUCK Pro Mitten. I am thoroughly impressed with the warmth these mittens provide in a sleek, non-bulky, soft leather package. These mittens have held up great and are a testament to the quality of product TRUCK produces. They will still make several appearances on the hill this season, however, with the new covid-19 protocol and mandatory mask wearing in lift lines, having something more dexterous to adjust my face covering is a must. Enter the TRIGGER.
The TRIGGER has the same attention to details and nice touches as the Pro Mitten: high-quality water-resistant goat skin leather, reinforced palms that can handle the alta rope-tow, thoughtful insulation mix, and soft fleecy thumb covering for wiping goggles or noses. The mitten has a bit more insulation, using a combination of Primaloft and Thinsulate vs a Primaloft and fleece mix in the Trigger. The fleece in the trigger gives it a super soft feel on the inside.
Overall, the TRIGGER is a very welcome addition to my ski bag, and most importantly, my hands have stayed warm and dry.
Compared to the Pro mitten, they sacrifice a few degrees of warmth for the extra dexterity. But having the ability to pinch things with my thumb and index finger has proven to be extremely valuable and worth the minimal warmth penalty.
The price to performance value of TRUCK is unmatched in the industry and I highly recommend the TRIGGER, Pro Mitten, or any other glove or mitten that TRUCK makes.
These gloves and mittens perform as good as or better than the more expensive competitor's products. For the price you would pay for another manufacturer's gloves, you could get a couple pairs from TRUCK!
***TRUCK Gloves sponsors our videos, and they asked us to share code TDP15. Use it at checkout to save 15%!***