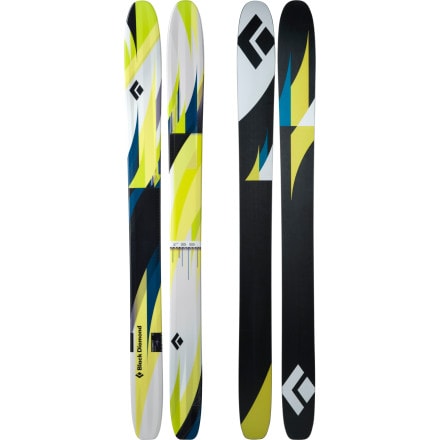 Today was the day to test out these mother ship of a ski. The day kept getting better and better as it progressed towards closing time. The Black Diamond Gigawatt Ski is truly a powder ski and will not steer you wrong. And yes winter has finally arrived in the Wasatch, and we all hope it's not going anywhere anytime soon.
The Black Diamond Gigawatt Ski was designed after it's predecessor, the Megawatt Ski (still one of my all time favorite ski –check them @Backcountry.com). The Gigawatt is basically the Megawatt ski on drugs. It features larger dimensions to make you look like a rock star on days like today.
The Gigawatt comes with a rocker tip and tail with no camber, providing excellent performance in deep powder. They are made with a torsion box construction that blends edge and durability of birch sidewalls. The birch sidewall allows more pop while skiing and allows better edge hold while carving based on the internal wall core technology.
Float to the top on those deep powder days! This ski can handle high speeds yet is remarkably quick and easier to turn. If you are looking for a big mountain freeride true powder ski then you have found the perfect match.
Lengths: 185 & 195
Dimensions: 163/135/141
MSRP: $979.00
Check Availability @Backcountry.com or compare prices from other top stores by clicking the "Buy Now" button below.