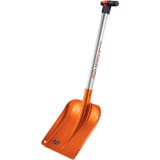 The Backcountry Access Arsenal Shovel is a necessity for any backcountry skier. The shovel/probe integration works great and makes for an easy pack-less setup when venturing out on those quick slackcountry tours. The probe is super easy to extract and having both your shovel and your probe in one place is extremely convenient. I've owned this shovel for 5 years now and have been very pleased with it. Luckily I have never had to use it for its intended purposes outside of digging pits. It's long handle makes for easy snow removal and the large blade handles as much snow as you can pick up. The handle is a bit longer than most shovels so if you have a smaller pack beware but, if you're looking to streamline your backcountry setup then look no further. The Backcountry Access Arsenal Shovel w/ Probe will not disappoint. Quickly finding both your shovel and your probe has never been easier.
Retail Price: $94.95
Check BCA Arsenal Shovel availability at Backcountry.com
Browse all BCA products currently in stock.
Compare Backcountry Access Arsenal Shovel prices from other outdoor stores by clicking the button below.