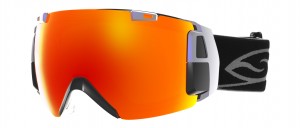 If you're not already a fan of Smith's I/O goggles you should be. With an amazing field of view and an easily interchangeable lens this is a tuff goggle to beat. New to this year Smith is introducing the I/O Recon!
This next-gen goggle contains more features than you could ever imagine. With a built in LCD screen in the bottom right corner of the lens this mini-computer can do everything from viewing your phone's text messages to tracking your vertical drop on the slopes. Using bluetooth and wifi technology this goggle can wirelessly connect to your smartphone or helmet cam. Want to change the music track your listening to on your iphone or check out if you got the right viewing angle on your helmet cam, just press a button on your Recon wireless remote and you can control everything effortlessly.
The heads-up-display inside your goggle can do it all – track your speed, tell you how big that cliff you just hit was, calculate your current elevation, locate your buddies on the mountain, check your text messages or missed calls, turn up the volume on your favorite jam, check the current temperature, and a whole slew of other over-the-top features.  Not exactly the cheapest of goggles (retail:$650) but if you're a techno geek that has to have the latest and greatest this is the goggle for you.
[vimeo]http://vimeo.com/52580067#[/vimeo]
Retail Price: $650