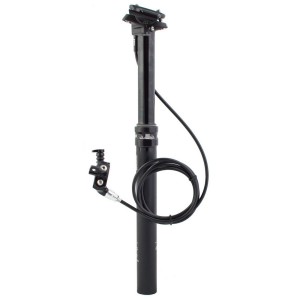 No it's not a keg tap.  It's the latest addition in the world of hydraulic seatposts.  RockShox's Reverb Seatpost is the first on the fly adjustable seatpost to eliminate any mechanical connection.  Unlike other hydraulic seatposts that use cables and mechanical levers to activate the post, Rock Shox's hydraulic actuation of the cable provides a much cleaner and fluid adjustment.   Just lightly press the lever and the post instantly adjusts to whatever position is most comfortable for you.  No longer do you have to stop in the middle of your ride to adjust your seat height.   Now with the flick of your thumb you can instantly switch between climbing and descending seat heights.
Made of 7050 aluminum with 125 mm of travel the RockShox Reverb will adjust to any height you need it to.  Using RockShox's technology from their impressive line-up of suspension forks this seatpost will be hard to beat.  Just beware, once you experience the convenience of on-the-fly adjustable seatposts, there's no going back.
Suggested Retail Price: $370.00
Check the RockShox Reverb Seatpost availability at Backcountry.com
Browse all RockShox products currently in stock.