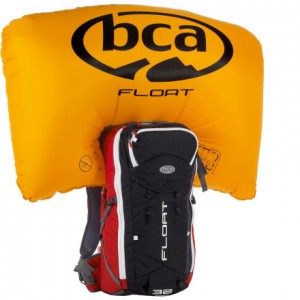 Just because it's May 18th doesn't mean you shouldn't still bring your BCA Airbag Pack with you into the backcountry.  Snowbird is reporting 8″ as of noon today and it's still dumping so avalanches are still of concern.  Backcountry Access's Airbag Pack will help keep you safe when things don't go as planned.  With a built in airbag that is triggered via a pull string positioned on your shoulder strap the Float 32 pack will greatly increase your chances of survival when caught in an avalanche.  By increasing your buoyancy and protecting your head from debris this pack offers a huge advantage over most packs.  The pack also comes with all the standards you expect from traditional packs including external shovel and probe pockets, hydration sleeve, mesh helmet carrier, and lined goggle pocket.
If you're thinking about traveling with this pack remember to deploy the airbag prior to departing as airport security will not let you through with the cylinder loaded.  But, don't fret as BCA has many refill locations all around the U.S. and Canada.  For more information including survival statistics be sure to check out Unofficialnetworks.com's report.
Suggested Retail Price: $550.00
Check the BCA Float 32 Pack's availability at Backcountry.com
Browse all BCA products currently in stock.