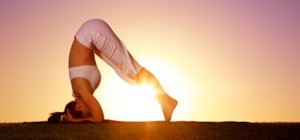 This coming Tuesday, June 25th Alta Community Enrichment is hosting a free outdoor yoga class.  Running from 5:30-7:00 pm at Our Lady of the Snows, Stacy Peterson will be sure to loosen your muscles in one of the most beautiful places on earth.  According to ACE,
Breathe some fresh mountain air while enjoying a tranquil outdoor yoga class instucted by Stacy Peterson.
Build core muscles while developing your flexiblity, your body will thank you later.
Namaste.