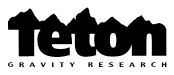 If you're still in the market for some new ski gear this season be sure to check out Teton Gravity Research's new gear guide. It's dedicated to providing information solely on skiing and snowboarding equipment and they do a great job organizing the information you're looking for in to one place. In the words of TGR,
"On TetonGravity.com/gear, you can browse all the newest and best ski and snowboard gear of the season in one place. No running shorts or dog beds to get in your way, the TGR gear site only features winter sports equipment. The idea is to give you the best possible place to browse ski and snowboard equipment on the Web. Ski and snowboard products feature descriptions, reviews, photos, videos, and TGR forum threads."
Be sure to read the forum threads for the products you're interested in. There's a wealth of information there, especially concerning skis, where you'll find people discussing everything from where to mount your bindings to which ski will suit your skiing style best. Happy gear hunting!