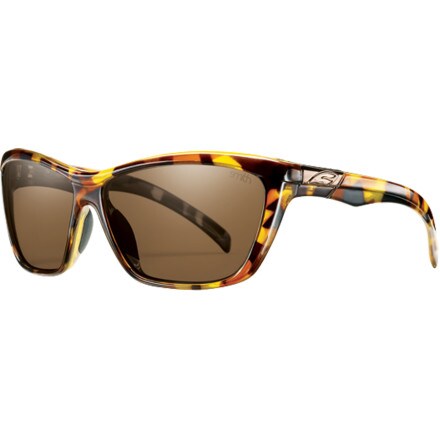 In honor of fellow free skier, visionary and friend I am recommending Sarah Burke's favorite Smith sunglasses the Smith Aura Sunglasses.
These 70s inspired sunglasses are no fail shades. I personally like the Vintage Tourtoise/Brown color which comes with polarized lenses. The polarized lenses of these beauties will give you no glare on the brightest of sunshiny days. The Techlite Poloarized Glass lenses produce optical precision and clarity that will exceed any expectations expected. Smith can create such a lens at a 20% weight reduction over other lenses on the market.
The Aura Smith Sunglasses comes with a Anti-Reflective mirror coating which deflects back light effects. They also come with a hydrophobic coating on the lens that will repel water, dirt, grease and fingerprints.
The Aura Sunglasses are a lightweight, stylish 70's yet modern option for your everyday eyewear. The polarized lens makes this the best choice for any situation, sunny day on the lake, those very flat lighting days while driving to the ski hill or a sunny day watching your friends huck their meat in a big mountain comp. The polarized lens will never do you wrong.
We don't want to curse the current forecast but let's hope we won't need to use these sunglasses until May or June maybe even July. So please mother nature, let is snow and don't let up until May at the earliest. We are getting desperate here.
MSPR: $178.95
Check Availability @Backcountry.com or compare prices from other top stores by clicking the "Buy Now" button below.