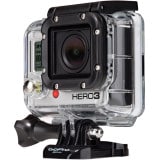 If Santa didn't bring you a new GoPro this Christmas like he did for most of Alta's holiday skiers, then pull the trigger already and buy one! This isn't just a camera made strictly for filming POV ski footage. It also produces great videos/images when used as a traditional camera. Weather you're vacationing on the beaches of Thailand or slaying a spine in Alaska the Hero 3 will capture the moment just as good if not better than your Sony point-and-shoot. New to this year's black edition, GoPro added a ton of features, mainly in the resolution/frame rate department. You can now pick from up to a 4K resolution (something that seems gimmicky to me as no one really owns a 4k TV yet) and up to 240 frames per second (great for super slow-mo shots). The new Hero 3 also comes in a much smaller and lighter package than the Hero 2. This is a big deal for me as my Hero 2 tends to cause my helmet to move around a lot due to its weight. The pricey ($399) black edition GoPro also includes the WiFi remote, something you had to pay ($79) extra for with previous models. If you're looking to save a couple bucks or a couple hundred bucks then be sure to check out the GoPro White Edition ($199) and GoPro Silver Edition ($299). Containing about half of the performance specs as the black edition these two cameras will still blow your mind. So get out there and show us what you got. It's time to go pro!
Retail Price (Black Edition): 399.99
Check Hero 3 (Black) availability at Backcountry.com.
Browse all GoPro products currently in stock.
Compare GoPro Hero 3 prices from other outdoor stores by clicking the button below.