Do you long for the days of the original Raichle Flexon's, the 3 piece boot invented by NASA engineer Eric Geise? Enter Full Tilt. According to the guys at Full Tilt:
We took it upon ourselves to go back and search out the original molds and bring it back to life not in some new and distorted form, but in the original construction and design that had been proven over the past 25 years to be the most popular 3-Piece design in the world. We purchased the original molds tested every feature, kept what worked, then added some of today's most advanced technology to make them work even better, never stopping until we were skiing them again. We hope you enjoy these boots as much as we enjoy bringing them back to life. The revolution in 3 piece boot design started here, and will now continue from here … For the good of skiing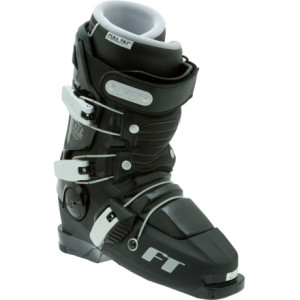 Full Tilt now offers a complete line of ski boots, with our favorite being the First Chair. The Full Tilt First Chair is built for the aggressive all-mountain skier who needs a super stiff yet super comfy ski boot. And the all black look with the leather accent is the cleanest looking ski boot we've ever seen. If you're looking for responsiveness and power combined with comfort, warmth and style, you need to give serious consideration to the Full Tilt First Chair.
Suggested Retail Price: $675
Check Price & Availability From Backcountry.com
You can buy this ski boot from Backcountry.com, and have it shipped free if you live in one of the lower 48 states.
Browse the entire product line from Full Tilt.