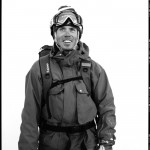 Alta Community Enrichment is hosting a launch party this Friday (2/8) for Stephen Gelb's Alta Portraits Project book.  Featuring black and white pictures taken with his Deardorff 8×10 view camera, Gelb's photo book truely captures the essence of Alta skiers. According to ACE…

Stephen explored the characters, culture and smiles that make up the local and employee population of the Alta Ski Area. Over 4 seasons, he photographed well over 200 portraits and landscape images to capture the experience of Alta. He hopes that his work will serve as a lasting documentation of American Ski Culture.
Running from 4pm-8pm at Our Lady Of The Snows it will be a great event to intermingle with Alta's many locals and grab yourself your very own signed copy of Alta Portraits Project.