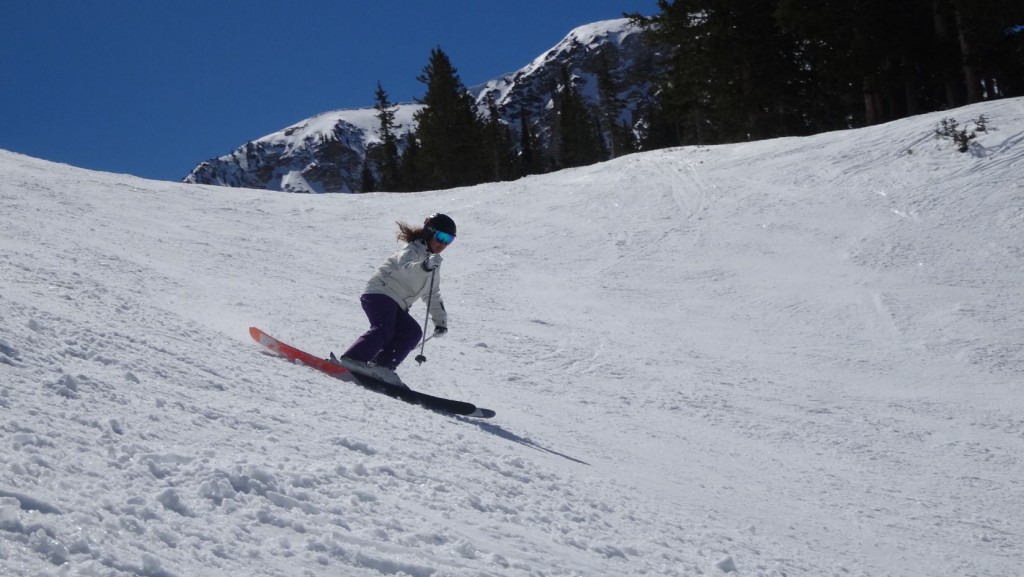 Alta has a reputation as being a mecca for experts; however there are plenty of turns to be had for those mere mortal, moderate skiers. There are plenty of wide open, modest pitch blue/green runs for beginners, intermediates and for those who are interested in going off-piste.  You can also find intermediate bowls for those just learning how to ski powder.  If you are a beginner or intermediate skier, check out my top favorite blue/green runs here at Alta.
Mambo to Corkscrew
This combo run is for intermediate skiers which allow you to ski top to bottom, without stopping.  Ride Collins lift up and ski down Mambo and at approximately 2/3 of the way down you will catch Meadow and then connect to Corkscrew for the final leg. Alta recently invested in widening the top of Corkscrew to make it a more desirable run, which is now seamless from top to bottom.  
Devil's Way to Devil's Elbow
Ride Collins back up and just over the top drop in to Devil's Way. It's pretty steep at first, and then will level out. Be sure to keep your speed for the longer flat ahead. This will turn into Devil's Elbow which meanders down the mountain at the perfect pitch. Be sure and stop to check out Devil's Castle, a dark rugged peak that arises above Cecret Lake, for a view of the ultimate backdrop.
Upper Big Dipper to Rock N' Roll
The main blue off of Supreme lift is Upper Big Dipper. This is a challenging Blue that allows you to ski down while being able to check out the black diamonds that jut down below.  Maybe you try those blacks next time ? About half way down, keep left and merge onto Rock N' Roll for an Alta favorite.
Crooked Mile
For those who are still in the beginner stage, anything off of Sunnyside will be good for you. Remember that Alta offers a ski lift ticket for $5 after 3 pm on Sunnyside lift. Pretty awesome deal if you are teaching your kid to ski or have just started yourself. The Crooked Mile is my favorite off of Sunnyside.  This run strolls on down back to the lift, giving the skier views of back country locals beloved Patsy Marley. It also gives you direct access to Alta Java, located at Albion, where you can stop by a pick me up.
Aggie's Alley
This solid blue run is located right off of Wildcat Lift. This does have a steeper pitch, but when you are ready for it, it will turn into a favorite. Aggie's Alley drops you off at mid mountain where you can catch Meadow down and then hang right to the Rustler Cat Track.  Here you can enjoy a very modest pitch slope that ambles down the mountain back to Collins.
Sweet N' Easy
Cecret lift is the most majestic and tranquil lift at Alta. It's slow moving, but worth the beauty you get to witness.  The peaceful nature of this area is one not to be missed. There are two green runs off the top, Rabbit and Sweet N' Easy. Life doesn't get much better than that.
Racecourse Saddle
Another favorite off of Collins is Racecourse Saddle. You catch the Saddle Traverse from Mambo about a quarter of the way down. You turn right on to the traverse and it drops you off at the top of Racecourse Saddle. This steeper pitch is for upper intermediates who are feeling confident and ready to try some of the more difficult blues.
Ballroom
For those intermediate skiers that want to stretch their powder experience, you'll want to make sure you try out Ballroom, located at the top of Collins and directly under Mount Baldy. This isn't a groomed run and you will need to traverse to get there, which is why it is considered a blue square and black diamond combo.  Ballroom is a wide open bowl where you can practice skiing powder. It links directly up with Main Street, a moderate Blue run. So if you are having trouble, remember there is an escape route just around the corner. Nearly all the trails at Alta will connect with an easy way down, so don't fret!
Catherine's 
Similar to Ballroom in the sense that this is not a groomed run, Catherine' offers those that have conquered the rest of the mountain a new set of challenges.  The slopes in this remote area are mild with a gentle pitch.  Accessible off of the Supreme Chair, Catherine's provide skiers with a great place to start dialing in those off-piste skills.  The snow is always soft so don't worry if you fall, it won't hurt.
Greely Hill
Probably the most difficult of our top 10 intermediate runs because of it's intimidating access.  To find this area you will have to overcome the rat-race that is the High-T.  Once you reach the top of Alta from the Collins lift follow signs for the High Traverse.  Take it slow as this traverse can become bumpy and icy days after a storm.  Follow the traverse all the way until you reach a green carpet that wraps you around to the backside of Alta.  From there continue North until you see the friendly slopes of Greely Hill to your right.  Wide open and always fresh up top, Greely Hill will give you a chance to see some of the areas where you'll be skiing once you graduate to Alta's expert runs.
Almost 40 percent of the terrain at Alta is considered suitable for skiers with intermediate skills. What a great mountain to try and stretch those abilities!