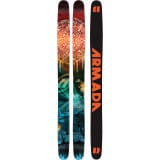 The Armada Bubba Ski is unlike any other pow board I have ever skied. For a ski its size it skis extremely nimble and absolutely crushes it in powder. It's girthy 132mm waist might scare some people away but it's super tapered tip and tail eliminates a ton of swing weight making it feel as light and maneuverable as my Atomic Bent Chetlers.
Armada designed this ski around their very popular ARG, which skis amazing in pow but leaves you high and dry when trying to get back to the lift. With the Bubba, Armada gave the ski some minor sidecut under foot making it possible to rail turns in and out of the pow.
The skis flex not only works great for milking pow turns but also provides a very stable feel when mocking down chutes at high speeds. The Bubba comes in three lengths (168, 178, 188) so no matter what your size is you have no excuse for passing up on the ultimate pow board. Prepare yourself for a new beginning.
Retail Price: $799.95
Check Armada Bubba Ski availability at Backcountry.com.
Browse all Armada products currently in stock.
Compare Armada Bubba Ski prices from other outdoor stores by clicking the button below.
By