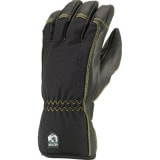 The Hestra Soft Shell Glove is a great everyday glove that will keep your fingers warm even on the coldest days. The Flextron outer layer works perfectly for those sweaty backcountry tours as it allows your hands to breathe while still keeping your heat in. The dexterous goat leather palms grip poles like no other and provide a very durable feel to the glove. The glove's cuffs work great if you like tucking them under your coat's sleaves but don't expect this glove to slip over your coat if that's how you prefer to role. I've had my pair of Hestra's for three seasons now and the leather stitching is still in tack with little signs of wear and tear. With a life time warranty you really can't go wrong with this glove. Check it out to keep those digits warm this winter.
Retail Price: $109.95
Check Hestra availability at Backcountry.com.
Browse all Hestra products currently in stock.
Compare Hestra Soft Shell Short Glove prices from other outdoor stores by clicking the button below.