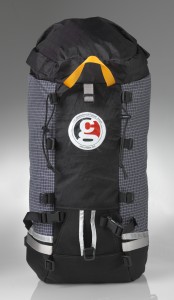 If you haven't heard of CiloGear yet you will soon.  This Portland, OR based company is picking up steam with their incredible attention to detail and handcrafted designs.  I had a chance to meet with one of their employees and get a hands on demonstration of the various features included in their new 30Z ski pack.  The first thing I noticed was the fabric they use.  Just from looking at it you can tell it is extremely durable and waterproof.  It's a fabric known as X-Pac, which is 500D Cordura laminated with Dacron for strength.  On the side panels they use Hi-Tenacity Nylon / Dyneema®.  These fabrics are some of the best materials in the world as far as durability is concerned.  You could stab a knife through this stuff and the fabric would resist tearing any further, even under pressure.
The next big thing that popped was their removable and customizable  straps.  You can literally remove or attach a strap anywhere on the pack to accommodate every piece of gear you throw at it.  The packs backpad is even removable if you need a warm place to rest your tush while out touring.  Inside the pack CiloGear included an internal compression strap that works with the packs semi rigid fabric to pull the load from the bottom of the pack up into your upper back between the shoulders.  This makes carrying heavier loads more comfortable and stable.
CiloGear hand sews everything from urban bags to ski packs so if you're in the market for a new pack that will last a lifetime look no further then CiloGear.  You won't be disappointed.
Suggested Retail Price: $189
Check the Cilogear 30Z Ski Pack's availability at CiloGear.com
Browse all CiloGear packs currently in stock.