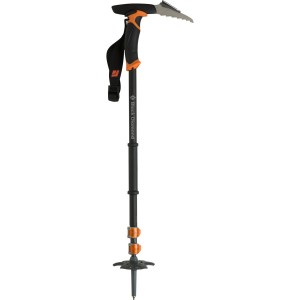 If you're a backcountry enthusiast who likes to chase down those hard to reach lines then make sure you bring your Black Diamond Carbon Whippet Pole.  No longer do you have to sacrifice a pole for an ice axe in those sketchy sections of your climb.  As opposed to the original Whippet pole the Carbon Whippet comes with three collapsible sections so you can easily store your pole in your pack.
Made of carbon fiber, Black Diamond was able to add stiffness and durability to this ever popular pole.  With 40 cm of adjustability you'll be able to fine-tune the length to any terrain you come across.  Be aware though, the adjustability of this pole does not allow for the same strength as conventional poles.  Also, remember when purchasing these poles they are sold individually so don't expect a full set of poles.
With snow in the forecast for next week it's time to start gearing up for another great season of face-shots.  Get on it!
Suggested Retail Price: $139.95
Check the Black Diamond Carbon Whippet Pole's availability at backcountry.com
Browse all Black Diamond products currently in stock.